Many people, when they hear the word "WIG", imagine a wig from the 70s. It was then that retro wigs were in fashion and many women of fashion did not hide the fact that they wear a wig, but rather emphasized this, since there were no kanekalon wigs in stores (they were brought from abroad) and wigs were very expensive.
To date, technology in the manufacture of wigs has reached such a level that only a specialist can distinguish a wig from naturally growing hair.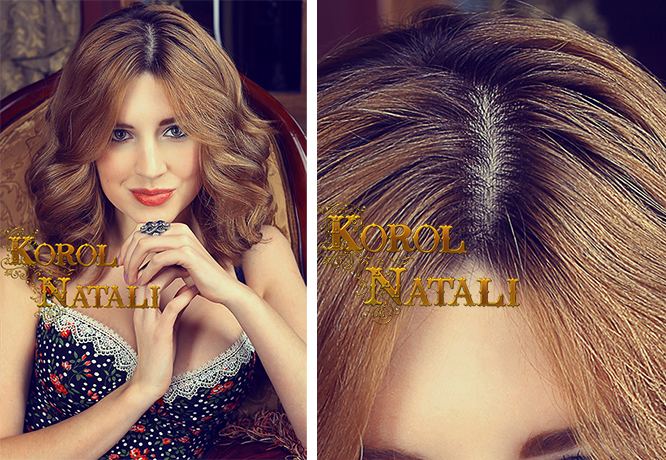 Such wigs are made in Korol Natali Wigs Company. Wigs are made according to individual measurements of the client. The manufacturing method is that 2-3 hairs are manually tied to the base. These wigs are also called the Hair Replacement System. Wigs with imitation of the scalp on the parietal part look absolutely natural. In this case, the parting can be done in any direction. If you look at the wig from above, no one will even guess that it is a wig. Wigs are made by hand from high quality selected Slavic hair. The advantage of these wigs is durability and comfort. Such a wig is worn for more than 5 - 7 years.
Wearing wigs made using the tambour method of manufacture is advised by trichologists when treating and restoring their own hair. The base in the wig is soft, elastic, pleasant to the touch, allows air to pass through to the scalp. Another such basis is called breathable. The wig can be left on during the day, and if necessary at night. To date, these are the highest quality and most expensive wigs.
Wigs
1. Wig, to change the image. If you want to turn from a blonde into a brunette or from a brunette into a blonde, red-haired beauty without damaging your hair, then a wig is indispensable in this case.
2. Wig instead of a hat. An artificial or natural wig in a bright color will really enliven the gray winter streets. Only when buying a wig, you need to tell the sales assistant that you want to use a wig instead of a hat. Lightweight summer wig options are not suitable for these purposes.
3. Wig as a means of disguise. If you want to remain unrecognized - put on a wig. Preferably radically different from your hairstyle and other hair color.
4. Wig as a means to hide gray hair. If you do not want to dye your hair or you are allergic to dye, and gray hair does not suit you. The wig is exactly what you need.
5. Wig as a means to hide bald patches. Not every man is bald. Not to mention the woman. In this case, a wig is a must. If the hair on the head is completely absent, then when buying a wig, you need to consider that its base is soft and pleasant to the touch.
6. Wig for hair problems. If you have problems with hair, and you are engaged in their restoration and treatment, then a wig is exactly what you need.
7. Wig as a fashion accessory. A wig is a fashionable, stylish, beautiful, chic, rich hairstyle. And most importantly, within minutes.
8. Chemo wig. It is no longer a secret to anyone that during chemotherapy, hair falls out. Hair will grow back, but it takes time. In this case, so that no one guesses about your problem, it is advisable to purchase or order a wig with a hairstyle that you had before chemotherapy.
9. Wig for people of public professions. Usually such people have very little free time, and they should always look presentable and not just good, but great. For these people, it is very important that the wig is indistinguishable from natural hair growth.
10. Wig as a way of life. In the wardrobe of women who often like to change hairstyles, there are several wigs that differ not only in hair color, but also in hairstyle, which allows you to vary your style.
Which option suits you best is up to you. And professional consultants of Korol Natali Wigs Salon are always ready to help you with the choice.
Website: https://korolnatali.com
Our address: 58A Bohdana Khmelnytskogo str
We are open every day from 10:00 a.m. to 6:00 p.m. (by appointment).
Phone: +380984557575
We are on Facebook: https://www.facebook.com/ParikiKorolNatali/
We are on Instagram: https://www.instagram.com/korolnatali_/